About the Journal
Culture Crossroads is an international peer-reviewed journal published by the Institute of Arts and Cultural Studies of the Latvian Academy of Culture. The goal of Culture Crossroads is to develop and expand theoretical and methodological approaches to the research of art and creativity with emphasis on the potential of a variety of disciplines and interdisciplinarity. The main focus of the publication is on the interaction of cultural, artistic and creative processes as well as the synergy between them and other domains of national economy, politics and social life. It is targeted on the most topical issues and discussion points in culture studies and arts. The publication is open to research in the fields of ethnology, theory of culture, semiotics, cultural anthropology, museology, cultural heritage, management of culture, sociology of culture and art, cultural economics (including creative industries), cultural politics, audio-visual art, performing arts, dance, theory of literature, musicology, law, linguistics, or other domains of culture studies and arts.
Current Issue
Vol. 21 (2022): Culture Crossroads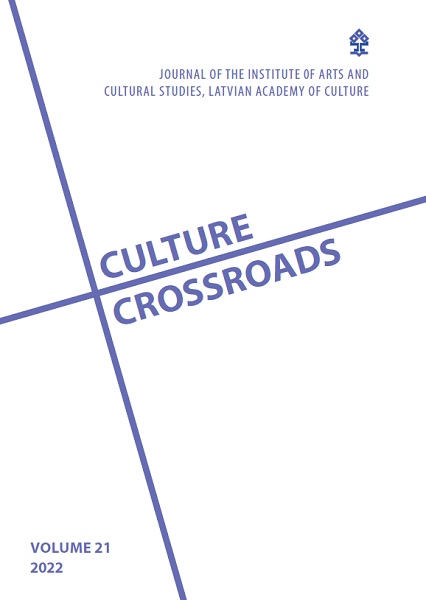 The team of the journal Culture Crossroads is truly pleased to be presenting this volume to you, our reader. First, since the previous issue, two events have taken place, and we will be experiencing their impact in a long time to come. The former of the events is that Culture Crossroads has been reviewed for indexing with Scopus and the decision was positive. Hence, this is the first volume to be Scopus-indexed. The journal team are enormously proud of this achievement. The latter event concerns the streamlining of publication processes – the journal has migrated to a brand new electronic system of journal management. This means, that in future, all publication processes will be state-of-the-art. Second, we are pleased with the content of the volume we are now presenting to you. It is versatile and multidimensional, yet there are three clearly distinguishable and exciting thematic strands. A closer reading, however, finds several cross-thematic conversations going on, which makes this volume even more interesting.
Full Issue
View All Issues