GERMAN AND LATVIAN CROSS CULTURAL COMMUNICATION ANALYSIS: A CASE STUDY OF LATVIAN FOLKLORE SHOW
Keywords:
Latvians, Germans, folklore show, cross cultural communication, symbolic elements of ethnicity
Abstract
Research topic "German and Latvian Cross Cultural Communication Analysis: A Case Study of Latvian Folklore Show" is relevant, because the successful mutual communication between Latvians and Germans is essential for the promotion of further co - operation with the Germans.
One of the ways to show the various symbolic elements of Latvian ethnicity together is to a Latvian folklore show. It is a world-proven practice in which foreign visitors are briefly introduced to the traditional culture of the country they have come to.
The object of the research is Latvian and German intercultural communication and the subject of the research is Latvian and German intercultural communication during Latvian folklore show. The aim of the research is to analyze Latvian and German intercultural communication during the folklore show. Research methods used in the work: referential analysis of the literature, method of observation. The research period is from 2008 to 2019.
The resarch shows that in order to create a positive cross cultural communication, the German language should be used, the order of the presentation of the symbolic elements is important and that the elements presented should be politicaly neutral. The creators of the show should be well informed about the other ethnicity and all of the participants of the show should be able to not only perform, but to create and maintain the communication process troughout the show.
References
Ben-Amos, D., Goldstein, S.K., (1975). Folklore: Performance and Communication. Series: Approaches to Semiotics, Vol. 40. The Hague : De Gruyter Mouton.
Borgatta, Edgar. (2000). Encyclopedia of Sociology. 2nd edition. London: Macmillan Library Reference, p. 841.
Biznesa kompetences centrs (2021). Nepublicētie materiāli. Zinātniskais projekts "Etnoproduktu etnotirgvedība" 2008. – 2019. gads.
Definitions of Folklore (1996). Journal of Folklore Research, 33(3), pp. 255–264. Pieejams:https://search.ebscohost.com/login.aspx?direct=true&db=asn&AN=15748503&site=ehost-live [skatīts 08.01.2022].
Edvards, John (1996). Symbolic Ethnicity and Language. In: Hutchinson, John and Smith, Anthony D. eds., Ethnicity. Oxford: Oxford University Press, p.228.
Eriksen, G. T. H. (2005). Norwegian folk costumes and cultural capital. Keeping the recipe. Focaal, 21(44), iegūts no: doi.org/10.3167/092012904782311308 pp. 20-34.
Marzolph, U. (1998). What Is Folklore Good for? On Dealing with Undesirable Cultural Expression. Journal of Folklore Research, 35(1), pp. 5 – 16. Pieejams : http://www.jstor.org/stable/3814782 [skatīts 04.01.2022].
Michalopoulos, S., Xue, M. M., (2021). Folklore*. The Quarterly Journal of Economics. 136(4). Iegūts no: doi:10.1093/qje/qjab003 pp. 1993 – 2046.
Oficiālās statistikas portāls (2019). 2019. gadā Latvijas tūristu mītnēs apkalpoto viesu skaits pieaudzis par 1,6 %. Pieejams: https://stat.gov.lv/lv/statistikas-temas/noz/turisms/preses-relizes/1849-latvijas-viesnicu-un-citu-turisma-mitnu-darbibas [skatīts 20.01.2022].
Oktoberfesta oficiālā mājaslapa (2022). Dirndlschleife binden: Tradition und Bedeutung. Pieejams: https://www.oktoberfest.de/dirndl-tracht/dirndlschleife-binden-das-ist-die-richtige seite#:~:text=Dirndlschleife%20rechts%20gebunden%3A%20Person%20verheiratet,diese%20auch%20historisch%20immer%20wieder [skatīts 20.07.2022].
Pumpurs, I. (2021). Cītara. Nacionālā enciklopēdija. Pieejams: https://enciklopedija.lv/skirklis/39377-cītara [skatīts 28.01.2022].
Spīčs, E. (2013). Latviešu folkloras izrāžu vadītāja kompetence darbā ar ārvalstu tūristiem. Biznesa kompetences: Monogrāfija. 5. sējums. Rīga: Biznesa kompetences centrs.
Skansen Smakow mājaslapa (2022). Folk show Evenings. Pieejams: https://skansensmakow.pl/en/folkshow-evenings/?doing_wp_cron=1643117055.2832190990447998046875 [skatīts 10.01.2022].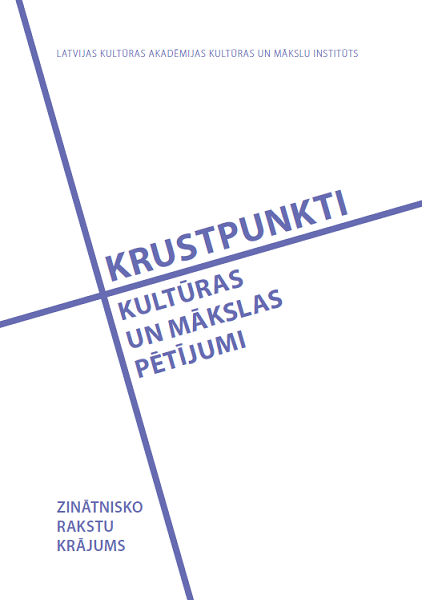 Downloads
Section
KULTŪRAS VĒSTURE UN MANTOJUMS
License
Copyright (c) 2022 Krustpunkti: kultūras un mākslas pētījumi
This work is licensed under a Creative Commons Attribution 4.0 International License.