SOCIO–POLITICAL ACTIVISM IN CURATORIAL PRACTICE. THE CASE STUDY OF FESTIVAL "SURVIVAL KIT"
Keywords:
Socio-political activism, curatorial practice, curatorial activism, Latvian contemporary art scene, Latvian contemporary art institutions
Abstract
This article is focusing on the potential strategies that characterize the practice of socio-politically activism in curatorial practice and its potentiality to transform the visual art institutions. Socio-political activism in curatorial practice addresses the specific socio-political issues in various exhibition formats and includes in its methodology strategic decisions that have lasting impact both on the functioning of the institutions themselves and socio- political change in general. This article also examines what strategies Latvian contemporary art curators use to encourage the presence of socio-politically active discourse in the Latvian visual arts scene. The article concludes that strategically inclusive activities in the context of Latvian art institutions are mostly not part of the exhibition policy. The case study under consideration is Latvian contemporary art festival "Survival kit" that is one of the rare art events in Latvia that have engaged with the possibility of real socio-political change and have found it continually necessary to work in ways that question the social and political life of Latvia. 
References
Cagol, S. (2013). Towards a Genealogy of the Thematic Contemporary Art Exhibition: Italian Exhibition Culture from the Mostra Della Rivoluzione Fascista (1932) to the Palazzo Grassi's Ciclo Della Vitalità (1959 – 1961). London: Royal College of Art.
George, A. (2015). The Curator's Handbook. London: Thames & Hudson.
Latvijas Laikmetīgā mākslas centra digitālais arhīvs. Festivāla "Survival kit" projektu apraksti. Pieejams: https://lcca.lv/lv/survival-kit/
Obrist, H.U. (2014). Ways of Curating. New York: Farrar, Straus and Giroux.
O'Neill, P. (2007). The Curatorial Turn: From Practice to Discourse. In: J.Rugg, M.Sedgewick, (eds). Issues of Curating in Contemporary Art and Performance. Bristol: Intellect Books, p.13- 28.
O'Neill, P. (2012). The Culture of Curating and the Curating of Cultures. Cambridge, Mass, London: MIT Press.
O'Neill,P., Sheikh, S., Steeds, L., Wilson, M. (2019). Curating After the Global: Roadmaps for the Present. Cambridge, Mass, London: MIT Press.
Reilly, M. (2018). Curatorial Activism: Towards an Ethics of Curating. London: Thames & Hudson.
Sandell, R., Nightingale, E. (2012). Museums, Equality and Social Justice. London: Routledge.
Sellars, T. (2014). Kuratora prakses pagrieziens. Skatuves mākslas tekstu tulkojumu antoloģija. Tulk. A.Kuprišs. Pieejams: http://garamantas.lv/lv/work/1698171/Kuratora-prakses-pagrieziens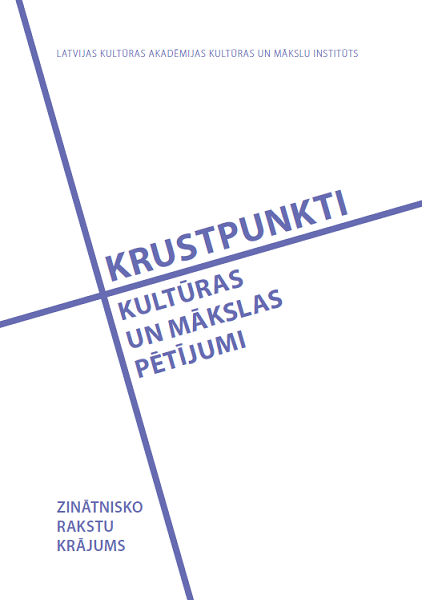 Downloads
Section
KULTŪRAS UN RADOŠO NOZARU DARBĪBA
License
Copyright (c) 2022 Krustpunkti: kultūras un mākslas pētījumi
This work is licensed under a Creative Commons Attribution 4.0 International License.