LIDAR AND NEW DISCOVERIES OF HILLFORTS IN LATVIA
Keywords:
LIDAR, archaeology, hillforts, folklore, citizen-science
Abstract
In the last four years, an explosion-like process of discovering new hillforts has been observed. This has been made possible due to the public availability of LIDAR relief maps and point-cloud data collected in the scanning process. This paper aims to describe the practical process of working with LIDAR data in discovering, describing and registering new hillforts, as well as look for answers to the question of why have so many hillforts (77 in the time from 2018 until 2021) only been discovered now and using remote sensing data. The paper gives an insight into the process of collaboration between professional archaeologists and history enthusiasts that spend countless hours going through LIDAR maps looking for relief transformations characteristic of hillforts. The result of this collaboration is an impressive number on new hillfort sites that change our views on settlement patterns and social processes in Latvian prehistory, especially in the Latgale region. This region has by far the highest number of new hillfort sites and it seems that the reasons for only discovering these hillforts with remote sensing data is related to the ethnic history of the region and the loss of hillfort folklore because of demographic and migration processes.
References
Auns, M. (2018). Latvijas tradicionālās kultūrvides veidošanās laikā no 16. gadsimta. J. Stradiņš (red.). Latvija un latvieši: akadēmiskie raksti, 2. sēj. Rīga: Latvijas Zinātņu akadēmija. 149.-176. lpp.
Bērziņš, V. (2017). Par arheoloģisko apzināšanu. Latvijas Vēstures Institūta Žurnāls, Nr. 1/102. 8.-9. lpp.
Digitālā augstuma modeļa pamatdati. Pieejams: https://www.lgia.gov.lv/lv/Digit%C4%81lais%20virsmas%20modelis?fbclid=IwAR1PIaFfaN-dRuu9J4Nng_8nwOoxPRFKEOZAmHfk2-rZw73o5AFv5FQrrlQ (skatīts 25.01.2022.)
Digitālie augstuma modeļi. Pieejams: http://www.lgia.gov.lv/lv/digitalie-augstuma-modeli (skatīts 21.04.2021.)
FugroViewer. Pieejams: https://www.fugro.com/about-fugro/our-expertise/technology/fugroviewer (skatīts 25.01.2022.)
Gillings, M., Hacigüzeller, P., Lock, G. (eds.). (2020). Archaeological spatial analysis: a methodological guide. New York: Routledge.
Guščika, E., Urtāns, U. (2018). Arheoloģisko objektu apzināšana Ropažu novadā. J. Urtāns, I. L. Virse (sast. un red.). Arheologu pētījumi Latvijā 2016.-2017. gadā. Rīga: NT Klasika, 252.-257. lpp.
Historic England. (2018). 3D Laser Scanning for Heritage: Advice and Guidance on the Use of Laser Scanning in Archaeology and Architecture. Swindon: Historic England.
Kluiving, S., Guttmann-Bond, E. (eds.). (2012). Landscape Archaeology Between Art and Science. Amsterdam: Amsterdam University Press.
Latvijas pilskalni. Pieejams: https://www.latvijas-pilskalni.lv/ (skatīts: 25.01.2022.)
LĢIA karšu pārlūks. Pieejams: https://kartes.lgia.gov.lv/karte (skatīts 25.01.2022.)
LVM GEO karšu pārlūks. Pieejams: https://www.lvmgeo.lv/kartes (skatīts 25.01.2022.)
PlanlaufTERRAIN. Pieejams: https://planlaufterrain.com/ (skatīts: 25.01.2022.)
Renfrew, C., Bahn, P. (1996). Archaeology: theories, methods, and practice (2nd edition). London: Thames and Hudson.
Urtāns, J. (2020). Jaunatklāto pilskalnu birums. Latvijas austrumu daļa. 2018. gads. Krustpunkti: kultūras un mākslas pētījumi. Rīga: Latvijas Kultūras akadēmija, 102.-127. lpp.
Urtāns, J. (2022). Jaunatklātie pilskalni Latvijā 1998.-2021. Rīga: Latvijas kultūras akadēmija.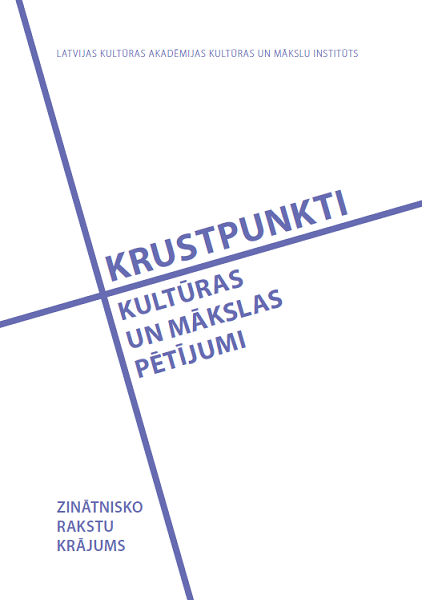 Downloads
Section
KULTŪRAS VĒSTURE UN MANTOJUMS
License
Copyright (c) 2022 Krustpunkti: kultūras un mākslas pētījumi
This work is licensed under a Creative Commons Attribution 4.0 International License.