CREATIVITY AND THE FILM INDUSTRY: THE CASE OF "LATVIAN FILMS FOR LATVIA'S CENTENARY"
Keywords:
creativity, creative process, film directors, Latvian Films for Latvia's Centenary
Abstract
In this paper authors focus on the film projects created under the "Latvian Films for Latvia's Centenary" (LV100) project competition, their thematic choice and development process. The aim of the article "Development of creative processes in the film industry in the framework of the LV100" is to find out how the thematic ideas of films under the "Latvian Films for Latvia's Centenary" contest developed, and what important factors are reflected in this creative process? The empirical part of the work, which includes semi-structured in-depth interviews with filmmakers (N = 15), reveals that (1) film ideas have occurred either under the influence of individual factors or collective as a result of the impression of LV100 contest (2) certain film intentions have arisen as a source of inspiration from an existing cultural product (3) in the context of the creative process, nationalism can be viewed in two ways: for some directors, nationalism was not a major theme for film-making purposes, but other directors acknowledge that it had an important role in Latvian identity and self-awareness.
References
Csikszentmihalyi, M. (2014). The systems model of creativity: The collected works of Mihaly Csikszentmihalyi. Claremont: Springer.
Demerath, N. J (1981). Through a Double-Crossed Eye: Sociology and the Movies. Teaching Sociology, No. 1 (9), p. 69-82.
Donascimiento, J. (2019). Art, cinema and society: sociological perspectives. Global Journal of Human Social Science: C Sociology & Culture, No 5 (19), p.19-28.
Doyle, C. L. (1998). The Writer Tells: The Creative Process in the Writing of Literary Fiction. Creativity Research Journal, No. 1 (11), p. 29-37.
Godart, F., Seong, S., Phillips, D. (2020). The Sociology of Creativity: Elements, Structures, and Audiences. Annual review of Sociology, No 1 (46), p. 14.1-14.22.
Mace, M.A., Ward, T. (2002). Modeling the Creative Process: A Grounded Theory Analysis of Creativity in the Domain of Art Making. Creativity Research Journal, No 2 (14), p. 179-192.
Nacionālais kino centrs (2015). Latvijas filmas Latvijas simtgadei 2015. gada filmu projektu ražošanas uzsākšanas konkurss. Pieejams: https://www.nkc.gov.lv/lv/jaunums/latvijas-filmas-latvijas-simtgadei-2015-gada-filmu-projektu-razosanas-uzsaksanas-konkurss (skatīts 27.12.2021.)
Shapiro, Roberta (2019). Artification as process. Cultural Sociology, No. 13 (3), p. 265-275.
Sztompka, P. (2015). Visual sociology, in International Encyclopedia of the Social and Behavioral Sciences, ed. Wright JD. New York: Elsevier, p. 191–196.
Wejbert-Wąsiewicz, E. (2020). Film and cinema as a subject of sociological study. Between tradition and the present. Acta Universitatis Lodziensis. Folia Sociologica, Vol. 73, p. 89-110.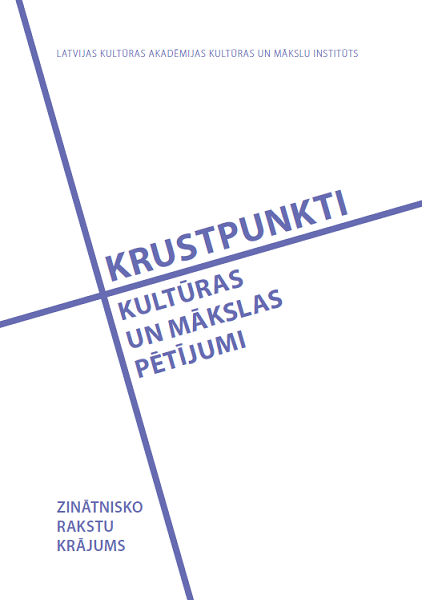 Downloads
Section
KULTŪRAS UN RADOŠO NOZARU DARBĪBA
License
Copyright (c) 2022 Krustpunkti: kultūras un mākslas pētījumi
This work is licensed under a Creative Commons Attribution 4.0 International License.