EXPLORING THE CONCEPT OF FREEDOM IN A STRICTLY NOTATED SCORE THROUGH THE AUTOETHNOGRAPHIC RESEARCH METHOD: CASE STUDY – KARLHEINZ STOCKHAUSEN'S KLAVIERSTÜCK I
Keywords:
autoethnographic research, Stockhausen, interpretation, freedom, strictly notated score
Abstract
Autoethnography is a research method that focuses on the researcher's personal experiences and, through the analysis of experiences, can contribute to a fuller understanding of a phenomenon on a wider cultural level. In music, personal experience, whilst unique, can be a relatable and reliable source for the community. I am researching the individual – myself – to show my perspectives and share my experiences with others. In this article, I aim to show how the autoethnographic research method, applied to the rather technical research question of how to understand and practice a strictly notated score, can lead to an attempt to understand the meaning of freedom in musical interpretation. The article presents my own research project, with the methodology and analytical process of the data, and describes one example of the practical work conducted in my research with the piano pieces of Karlheinz Stockhausen. I aim to examine the understanding of freedom in musical interpretation and discuss why precise notation that at first might not give an impression of free interpretation possibilities can in fact be an interesting way of finding oneself and one's personal approach.
References
Adams, T., Jones, S., Ellis, K. (2015). Autoethnography. New York: Oxford University Press.
Corver, E. (2018). The Development of the Performer's Role in Karlheinz Stockhausen's Piano Works. Research Catalogue. Available: https://www.researchcatalogue.net/view/300903/300904 (viewed 22.03.2022.)
Douglas, K., Carless, D. (2013). A History of Autoethnographic Inquiry. In: S. Jones, T. Adams, C. Ellis (eds). Handbook of Autoethnography. Abingdon: Routledge.
Ellis, C., Adams, T. E., Bochner, A. P. (2010). Autoethnography: An Overview [40 paragraphs]. Forum Qualitative Sozialforschung / Forum: Qualitative Social Research. 12(1). Art. 10. Available: http://nbn-resolving.de/urn:nbn:de:0114-fqs1101108 (viewed 30.10.2022.)
Ellis, C., Bochner, A. P. (2000). Autoethnography, personal narrative, reflexivity: Researcher as subject. In: N. K. Denzin, Y. S. Lincoln (eds). Handbook of qualitative research. London: Sage, pp. 733–768.
Griffiths, P. (2005). Musica nova. Modernin musiikin historia Debussystä Bouleziin. 2nd ed. London: Oy UNIPress Ab. (Finnish translation by Jouko Laaksamo).
Harvey, J. (1975). The music of Stockhausen. An Introduction by Jonathan Harvey. London: Faber and Faber Limited.
Henneberger, J. (2021). Lecture-Workshop. Rhythmische Polyphonie bei Karlheinz Stockhausens Nr. 2 – Klavierstücke I–IV. Fachhochschule Norwestschweiz Musik-Akademie Basel. 04.05.2021.
Karen, H. (2022). Author's personal learning diaries. Unpublished. Private writings.
Lodico, M. G., Spaulding, D. T., Voegtle, K. H. (2010). Methods in Educational Research: From Theory to Practice. San Francisco: John Wiley & Sons.
Merleau-Ponty, M. (2012). Phenomenology of Perception. New York: Routledge.
Neuhaus, H. (1973). The Art of Piano Playing. New York: Praeger Publishers.
Pace, I. (2009). Notation, Time and the Performer's Relationship to the Score in Contemporary Music. In: D. Crispin (ed). Unfolding Time. Leuven University Press, pp. 151–192.
Stockhausen, K. (1954). Nr. 2 Klavierstücke I–IV. London: Universal Edition (UE 12 251).
Stockhausen, K. (1963). Texte zur Musik 1: Aufsätze 1952–1962 zur Theorie des Komponierens. D. Schnebel (ed). Cologne: Verlag M. DuMont Schauberg.
Tudor, D. (1994). Karlheinz Stockhausen – David Tudor – Klavier Stuecke. CD-Album. Switzerland: hat ART.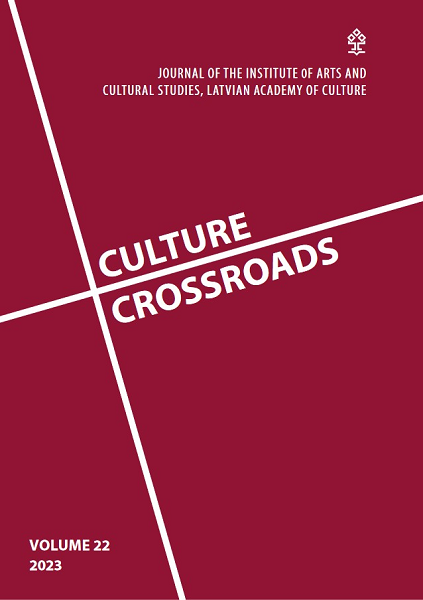 Downloads
Section
MUSIC AND RESEARCH
License
Copyright (c) 2023 Culture Crossroads
This work is licensed under a Creative Commons Attribution 4.0 International License.