THE PIANIST'S PERCEPTION OF FIGURATIVE TEXTURE IN PIANO WORKS BY LATVIAN COMPOSERS
Keywords:
texture of piano music, figuration, Latvian piano music, artistic research
Abstract
Tracing the development of texture in Latvian piano music from the performer's point of view, including historical and stylistic aspects, it becomes apparent that figuration is one of its most prominent specific elements which demonstrates the uniqueness of texture as well as reflects stylistic transformations. The aim of this paper is to highlight the different types of interpretation of the instrument – colourful illusionary and real motoric pianism as well as their synthesis in the context of several compositional techniques of the musical language of Latvian composers. All of these aspects are particularly important for the performer.
References
Doğanton-Dack, M. (2015). Artistic Research in Music: Theory, Criticism, Practice. Surrey, UK: Ashgate. Artistic Research in Classical Music Performance: Truth and Politics. Available: http://parsejournal.com/article/artistic-research-in-classicalmusic-performance (viewed 10.01.2022.)
Gailīte, Z. (2003). Par Rīgas mūziku un kumēdiņu spēli. Rīga: Pētergailis.
Griffiths, P. (2010). Modern Music and After. Oxford: Oxford University Press.
Haseman, B. (2006). A Manifesto for Performative Research. Available: http://eprints.qut.edu.au/3999/ (viewed 12.12.2021.)
Ivanovs, I. (1980). 60. un 70. gadu Jāņa Ivanova klavieru skaņdarbi. Latviešu mūzika. Rakstu krājums 14. Rīga: Liesma, pp. 105–122.
Jermaka (Žiba), E. (2003). Romualda Jermaka Akvareļi komponista klaviermūzikas un vispārējā daiļrades stila kontekstā. Maģistra darbs: JVLMA.
Kurpniece, B. (1995). Gundara Pones muzikālās daiļrades stilistika, Rīga: JVLMA.
Przech, V. (2004). Polska twórczość na fortepian solo 1956–1985. Bydgoszcz: Akademija Muzyczna im. Feliksa Nowowiejskiego.
Sīle, M. (2003). Latvijas klavierspēles skolas attīstība. Rīga: RaKa.
Stucky, S. (2010). Lutoslawski and His Music. Oxford: Oxford University Press.
Sumelius-Lindblom, E. (2019). The Pianist's Perception as a working and research method: Encountering Intertextual and Phenomenological Approaches in Piano Playing. Art Research International. A Transdisciplinary Journal 4 (1). Available: https://www.researchgate.net/publication/331388690_The_Pianist's_Perception_as_a_Working_and_Research_Method_Encountering_Intertextual_and_Pheno-menological_Approaches_in_Piano_Playing (viewed 10.01.2022.)
Šarkovska-Liepiņa, I. (1997). Latvijas mūzikas kultūra 15.–16. gs. Eiropas mūzikas kontekstā.
Promocijas darba kopsavilkums. Rīga: JVLMA.
Torgāns, J. (2010). Latviešu mūzikas virsotnes: Palīglīdzeklis mūzikas vidusskolām latviešu mūzikas literatūras kursā. Rīga: Zinātne.
Vītols, J. (1964). Raksti. Rīga: LVI.
Zandberga, D. (2013). Faktūras īpatnības latviešu klaviermūzikā. Mūzikas akadēmijas raksti X, Rīga: JVLMA, pp. 105–116.
Zandberga, D. (2015). Some Aspects of Innovative 20th Century Compositional
Techniques in the Texture of Latvian Piano Music. Lietuvos muzikologija XVI. Vilnius: Lietuvos muzikos ir teatro akadēmija, pp. 62–68.
Zemzare, I. (1994). Tālivaldis Ķeniņš: Starp divām pasaulēm. Rīga: Garā pupa.
Вериня, В. (1991). Клавирно-фортепианное искусство Латвии (от истоков до начала ХХ века). Автореферат канд. дис. Ленинград: Ленинградская государственная консерватория имени H. A. Римского-Корсакова.
Сипола, М. (1990). Фортепианная культура Латвии 20–80-х годов ХХ века. Диссертация кандидата искусствоведения. Вильнюс: Литовская государственная консерватория.
Черная, М. (2005). Пианист и фигурационное письмо: Монография. Тверь: Тверской государственный университет.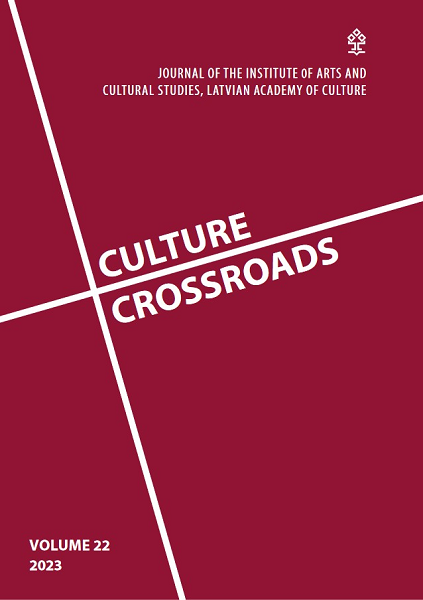 Downloads
Section
MUSIC AND RESEARCH
License
Copyright (c) 2023 Culture Crossroads
This work is licensed under a Creative Commons Attribution 4.0 International License.