TRANSDISCIPLINARY AND TRANSNATIONAL MANIFESTATIONS IN OJĀRS FELDBERGS' ART: THE CONCEPT OF BORDERS
Keywords:
the concept of borders, transnational, transdisciplinary, Ojārs Feldbergs, performance
Abstract
In this article the author examines the concepts of transdisciplinarity and transnationalism as methodological tools in art analysis. By applying these tools to the case study of Latvian artist Ojārs Feldbergs and addressing the concept of borders in his art, the author questions knowledge production systems, especially in terms of Western art discourse. The author doubts that in our hybrid globalised world it is still possible to look at artists and their oeuvre through a monoethnic perspective. It is important to be aware of parallel processes, intercultural encounters and sources of inspiration beyond the borders of one country or discipline. Yet, in doing so, the centre-periphery relationship should be addressed critically and the dictate of cultural metropolises as centres should be avoided. Given that Feldbergs' art cannot be seen as a constituent of isolated elements – object (sculpture), space (environment), time, spectatorship – but, indeed, as a complex whole, which is hybrid and synthesised, it is crucial to define Feldbergs' artistic strategies addressing the concept of borders – both physical and symbolic.
References
Bernstein, J. H. (2015). Transdisciplinarity: A Review of Its Origins, Development, and Current Issues. Journal of Research Practice, 11(1), Article R1. Retrieved from http://jrp.icaap.org/index.php/jrp/article/view/510/412
Bishop, C. (2012). Artificial Hells: Participatory Art and the Politics of Spectatorship. London, New York: Verso.
Craenen, P. Notes on Transdisciplinary Sounding Art. Available on: https://paulcraenen.com/notes-on-transdisciplinary-sounding-art/ (accessed on 04.11.2021)
Damus, Obrillant. (2021). Towards an epistemological alliance for the decolonization of knowledge of the global South and the global North. Available on: https://en.unesco.org/futuresofeducation/ideas-lab/damus-epistemological-alliance-decolonization-knowledge-global-South-global-North (accessed on 24.08.2021)
Feldbergs, O. (2021). Homo Ludens (film, produced by Laine Kristberga). Latvian Centre for Performance Art. Available on: https://www.youtube.com/watch?v=g2V-8R85g8Q&ab_channel=LatvijasPerformancesm%C4%81kslascentrs
Feldbergs, O. (2012). Pedvāle 20. Pedvāles Brīvdabas mākslas muzejs
Hock, B. [2018]. Introduction – Globalizing East European Art Histories. The Legacy of Piotr Piotrowski and a Conference. In: B.Hock and A.Allas (Eds.) Globalizing East European Art Histories. New York and London: Routledge, 2018
Kahn, S. (2014). L'État-nation comme mythe territorial de la construction européenne [The Nation-State as a Territorial Myth of European Construction]. L'Espace géographique, No 3, pp. 240–250. Available: https://www.cairn.info/revue-espacegeographique-2014-3-page-240.htm (viewed 28.08.2021.)
Keestra, M., Menken, S. (2016). Interdisciplinarity. In: An Introduction to Interdisciplinary Research: Theory and Practice. Amsterdam University Press.
Moma.org. On Vija Celmiņš: https://www.moma.org/artists/1048
Moma.org. On Mark Rothko: https://www.moma.org/artists/5047
Nicolescu, B. (2014). Multidisciplinarity, Interdisciplinarity, Indisciplinarity, and Transdisciplinarity: Similarities and Differences. RCC Perspectives No. 2, Minding the Gap: Working Across Disciplines in Environmental Studies, pp. 19-26
Nicolescu, B. (2007). Transdisciplinarity: Basarb Nicolescu Talks with Russ Volckmann. Interview available on: https://www.researchgate.net/publication/26510502_Transdisciplinarity_Basarab_Nicolescu_Talks_with_Russ_Volckmann (accessed on 28.08.2021)
Pedvale; retrieved from https://www.pedvale.lv/en/art-park/ (accessed on 16.02.2022) and https://www.pedvale.lv/ojars-feldbergs/ (accessed on 16.02.2022)
Repko, F. A., Szostak, R., Buchberger, M. P. (2020). Introduction to Interdisciplinary Studies. SAGE Publications, p. 38.
Scafirimuto, G. (2021). Uses of Border in Transnational Art and in Guillermo Gomez-Peña's Work. In: C. E. Skalle, & A. M. Gjesdal (eds.). Transnational Narrativesof Migration and Exile. Perspectives from the Humanities. Oslo: Scandinavian University Press.
Simal-González, B. (2018). Disrupting globalization: Transnationalism and American literature. Journal of Transnational American Studies. Volume 9, Issue 1, pp. 277–291.
Tate.org.uk. Hyundai Tate Research Centre: Transnational. New Perspectives on Global Art Histories. Available on: https://www.tate.org.uk/research/research-centres/hyundai-tate-research-centre-transnational (accessed on 28.08.2021)
Tufnell, B. (2006). Land Art. London: Tate Publishing
Zijlmans, K. (2014). Recalcitrant Geographies. National Claims, Transnationalism, and the Institutionalization of Contemporary Art. Stedeljik Studies Journal, No 1. Available on: https://stedelijkstudies.com/journal/recalcitrant-geographies/#_edn2 (accessed on 24.08.2021)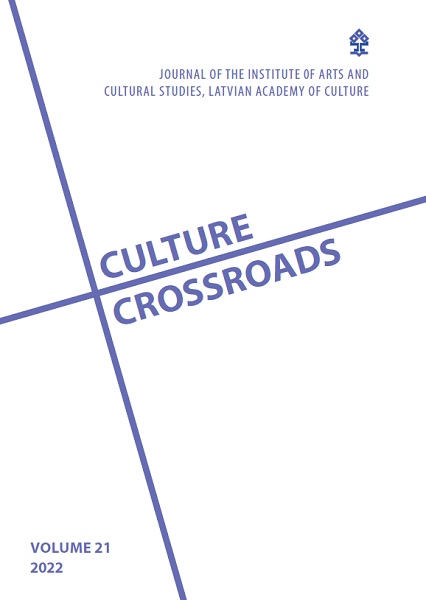 Downloads
License
Copyright (c) 2022 Culture Crossroads
This work is licensed under a Creative Commons Attribution-NonCommercial 4.0 International License.