CHOREOGRAPHER IN CONTEMPORARY THEATRE: THE CASE OF LATVIA
Keywords:
Olga Žitluhina, contemporary theatre, contemporary dance
Abstract
As the paradigm of dramatic theatre has changed and the genre of contemporary dance has evolved, a new approach to theatrical choreography has emerged. In Latvia, a new generation of contemporary dance choreographers has been active for two decades. They have significantly influenced both the aesthetics of their productions and developed the degree of the participation and co-responsibility in dramatic actors.
By working together with contemporary dance choreographers, some actors and directors have changed their attitudes toward their body, its role, and the meaning of their movements. There is a growing awareness of how much time, effort, and precision would be required for smart and valuable choreography. This is a new experience and an opportunity for dramatic theatre. To delve deeper, Ben Spatz, researcher and theorist of embodied practice, through his research encourages artists to focus on the process of exploring the body rather than endlessly developing technical virtuosity.
While the director is still primarily responsible for the staging, the work of the rest of the creative team is often of equal importance. According to the postdramatic theatre theory of German theatre scholar Hans-Thies Lehmann and the performing arts scholar Erika Fischer-Lichte, this is related to a general tendency in the contemporary theatre – the focus is set on living, immediate relationship between theatre and audience, and in this contemporary art discourse the choreographer plays a very important role.
References
Balode, I. (2012). Dance Theatre in Latvia. In: G. Zeltiņa (ed.) Theatre in Latvia. Rīga: Institute of Literature, Folklore and Art, University of Latvia, p. 191–201.
Balode, I. (2020). Towards Invisible Choreography. Some Thoughts on Latvian Theatre Meeting Contemporary Choreography. In: L. Mellēna-Bartkeviča (ed.) Contemporary Latvian Theatre. A Decade Bookazine. Rīga: Zinātne, p. 100–116.
Dūmiņa, L. (2020). Artūra Skrastiņa Spogulija. Rīga: Apgāds Zvaigzne ABC
Fischer-Lichte, E. (2008). The Transformative Power of Performance: a New Aesthetics. Routledge.
Hermanis, A. (2016). Dienasgrāmata. Rīga: Neputns.
Jonīte, D. (2016). Interview with Olga Žitluhina. Personal archive of Dita Jonīte.
Kreicberga, Z., Tišheizere, E., Ulberte, L. (2022). Defining Contemporary Theater: Global Experiences and Latvian Practices. Letonica, Nr. 46, p. 80–100.
Kristberga, L. (2021). The Strategies of Escapism in the Homo Sovieticus Reality. Reliģiski-filozofiski raksti, 31, 322.–344. lpp.
Lehmann, H. T. (2006). Postdramatic Theatre. New York: Routledge.
Sörgel, S. (2015). Dance and the Body in Western Theatre. UK: Palgrave.
Spatz, B. (2015) What a Body Can Do: Technique as Knowledge, Practice as Research. New York and London: Routledge.
Tišheizere, E. (2018). Pasaule, kas manā galvā. Teātra Vēstnesis. Available: https://teatravestnesis.lv/article/431-pasaule-kas-mana-galva (viewed: 01.04.2022.)
Zeltiņa, G. (2012). Introduction and General Background. In: G. Zeltiņa (ed.) Theatre in Latvia. Rīga: Institute of Literature, Folklore and Art, University of Latvia, p. 7–30.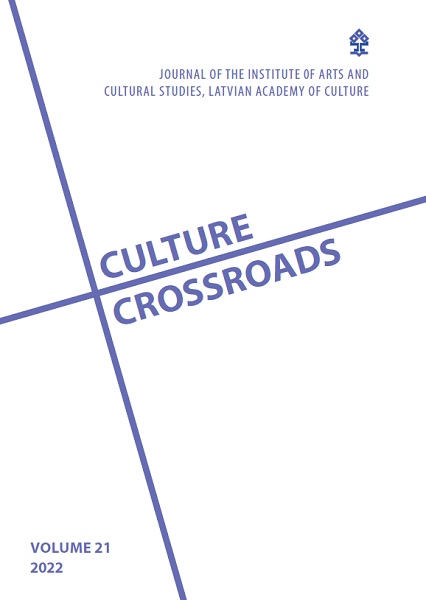 Downloads
License
Copyright (c) 2022 Culture Crossroads
This work is licensed under a Creative Commons Attribution-NonCommercial 4.0 International License.