CONTEMPORARY MUSIC(AL) THEATRE IN LATVIA: PROBLEM OF DEFINITIONS AND FORMATS
Keywords:
musical theatre, music theatre, hybrid genres, definitions, criticism
Abstract
The article aims to discuss the existing problem in contemporary art criticism, when previous genre definitions and descriptions do not match to current phenomena in question. The contemporary music(al) theatre productions tend to by diverse and often produced as hybrids, interdisciplinary projects that do not allow a single method of analysis characteristic to one of the combined artistic disciplines. The three examples provided are defined by their authors as a contemporary chamber opera, a contemporary musical and opera-film, showing the diversity of music(al) theatre genres emerging today in new form. The author concludes that the hybridization of genres and the devised creation method implies the questioning of former analytical instruments and discourses in order to develop the criticism of performing arts along with the research subject.
References
Fischer-Lichte E. Interart Aesthetics (2015) https://www.geisteswissenschaften.fu-berlin.de/v/interart/media/dokumente/laboratory-reader/Text_Fischer-Lichte_Interart.pdf [viewed 30.04.2022]
Fischer Lichte E. (2016). Introduction. From Comparative Arts to Interart Studies. Paragrana. Vol. 25, Issue 2, De Gruyter. https://www.degruyter.com/document/doi/10.1515/para-2016-0026/html [viewed 28.04.2022]
Lagzdiņa S. Auznieka un Dzudzilo kameropera "Tagadne (Time Present)" runās mīlestības valodā. Pa ceļam ar klasiku. LR3 Klasika, 12.08.2021. https://klasika.lsm.lv/lv/raksts/pa-celjam-ar-klasiku/auznieka-un-dzudzilo-kameropera-tagadne.-time-present-runas-mile.a147750/ [viewed 25.04.2022]
Mellēna-Bartkeviča, L. (ed.) (2020). Contemporary Latvian Theatre. Rīga: Zinātne/LTDS.
Musical. Encyclopaedia Britannica https://www.britannica.com/art/musical [viewed 30.04.2022]
Music theatre. The New Grow Dictionary of Music and Musicians (2001) 2nd edition, Oxford University Press.
Musical theatre. The New Grow Dictionary of Music and Musicians (2001) 2nd edition, Oxford University Press.
Pavis. P. (2015). Dictionnaire du theatre. Édition revue et corigée. Armand Colin, Paris.
Pavis P. (1999). Dictionary of the Theatre. Terms, Concepts and Analysis, 1st Edition (transl. Christine Shantz), University of Toronto Press.
Silabriedis O. (2021). Divstāvokļa piedzīvojums (par kameroperu Tagadne/Time present), www.artteritory.com. 25.08.2021. https://arterritory.com/lv/skatuve_-ekrans/recenzijas/25729-divstavokla_piedzivojums [viewed 23.04.2022]
Treile. M. (2021). Balss no beletāžas. Librets. 4. Aina, 2.lpp.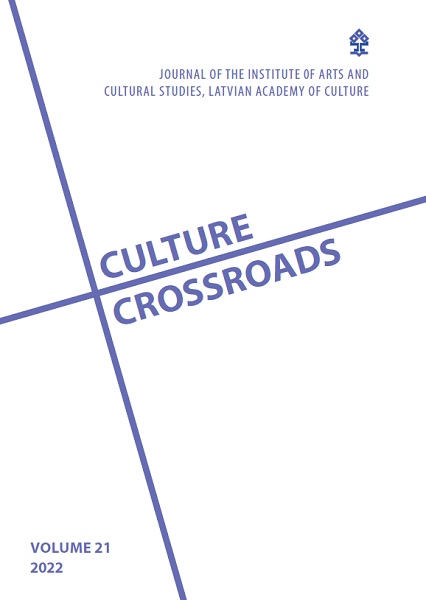 Downloads
License
Copyright (c) 2022 Culture Crossroads
This work is licensed under a Creative Commons Attribution-NonCommercial 4.0 International License.