ARTISTIC FREEDOM, CENSORSHIP AND SELF - CENSORSHIP IN THE FILM INDUSTRY OF LATVIA
Keywords:
Artistic freedom, censorship, film art, self-censorship
Abstract
The concept of censorship associates with authoritarian regime; however, it is not unequivocally, i.e., also in a democratic country there may be obstacles that create barriers for artistic self-expression and limit the artistic process by stimulating the topicality of self-censorship. Also, in Latvia the parliamentary democracy creates legal framework that formally excludes the ideological censorship of creative process and artistic creativity. Simultaneously, the society's attitude towards artistic expressions, as well as dominant ideologic values among various groups of society and within the country may create critically condemnatory or supportive framework for certain expressions of art. The main aim of this article is to find out how the artists of today comprehend and explain manifestations of artistic freedom, censorship, and self-censorship in Latvia nowadays. Eighteen in-depth interviews involving the Latvian directors of the films were conducted in the framework of FARP "The art of nationalism: Social solidarity and exclusion in contemporary Latvia". In general, the study (1) reveals multi-shaped manifestations of censorship in the creative activities and dominant conditions in which it forms; (2) allows to follow up the sources of self-censorship for artistic activity, and (3) draws conclusions on the conditions and barriers of creative freedom in Latvian society.
References
Bar‐Tal, D. (2017). Self‐censorship as a socio‐political‐psychological phenomenon: Conception and research. Political Psychology, 38, p. 37-65.
Cook, P., & Heilmann, C. (2010). Censorship and two types of self-censorship. LSE Choice Group working paper series, 6(2). The Centre for Philosophy of Natural and Social Science (CPNSS), London School of Economics, London, UK
Horton, J. (2011). Self-Censorship. Res Publica 17, p. 91–106.
Khatchadourian, H. (1978). Artistic freedom and social control. Journal of Aesthetic Education, 12(1), p. 23-32.
Müller, B. (2004). Censorship and cultural regulation: Mapping the territory. Censorship & cultural regulation in the modern age. Brill, p. 1-31.
Stelmakh, V. D. (2001). Reading in the Context of Censorship in the Soviet Union. Libraries & the Cultural Record, 36(1), p. 143–151.
Tanasescu, S. (2011). Artistic Freedom and Its Limitations. Romanian Journal of Comparative Law, 2(1), p. 9-53.
Zeveleva, O. (2020). Towards a Bourdieusian sociology of self-censorship: What we can learn from journalists adapting to rapid political change in Crimea after 2014. European Journal of Communication, 35(1), p. 46-59.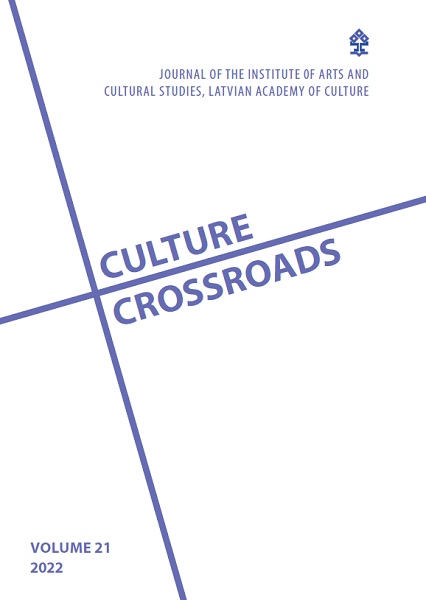 Downloads
License
Copyright (c) 2022 Culture Crossroads
This work is licensed under a Creative Commons Attribution-NonCommercial 4.0 International License.