OBJECTIVES AND FOCUS OF FESTIVALS IN LATVIA WITHIN THE CONTEXT OF MANAGEMENT AND CULTURAL POLICY
Keywords:
festival, objective, influence, cultural policy
Abstract
This article provides an insight into the problems of defining the notion "festival" and the classification of various festivals. In respect to the influence of cultural and art festivals, it is indicated that the definition of the objective is a pre-condition for the measurement of influence, so that the re- sults could be objectively accepted. The formulation of an objective by defin- ing the preferable results and the desirable influence corresponds to the basic principles of management and the best practice in the organisation of cultural events. The article analyses the objectives of Latvia's festivals and the cate- gories of influence by applying the method of content analysis, as well as outlines the influence of festivals upon the sector of culture and cultural en- vironment, including the social influence. The author draws a conclusion that the organisers of festivals in Latvia believe that the main objective is to enrich cultural life by offering qualitative cultural events and by diversifying it with something new, thus broadening the worldview of participants and popular- ising a specific genre of art.
References
Allen, O'Toole, 2008. J. Allen, W. O'Toole et al. Festival & Special Event Management. Australia: John Wiley & Sons, 2008.
Birx, 2010. H. Birx. Festivals and Rituals. 21st Century Anthropology: A reference handbook. CA: SAGE Publications, Inc, 2010. – pp. 773–782.
Drucker, 2010. P. F. Drucker. The Practice of Management. New York: Harper Business, 2010.
Falassi, 1987. A. Falassi. Festival: Definition and Morphology. Time Out of Time: Essays on the Festival. Albuquerque, NM: University of New Mexico Press, 1987. – pp. 1–10.
Getz, 2005. D. Getz. Event Management and Event Tourism. New York: Cognizant, 2005.
Hermane, 2008. A. Hermane. Nozīmīgākās pieturvietas festivāla organizēšanas procesā. Ceļvedis kultūras centra vadībā. Rīga: V/A Tautas mākslas centrs, 2008.
Hunyadi, Inkei, 2006. Z. Hunyadi, P. Inkei et al. Festival – world Summary Report. National survey on festivals in Hungary. Budapest: KultúrPont Iroda, 2006.
Klaic, 2006. D. Klaic. Festival Performance Research. A Journal of the Performing Arts. 2006. Vol. 4, 11. – pp. 54–55.
Locke, Latham, 1990. E. A. Locke, G. P. Latham. A theory of goal setting and task performance. Upper Saddle River, NJ: Prentice Hall, 1990.
Locke, Latham, 2006. E. A. Locke, G. P. Latham. New Directions in Goal–Setting Theory. Current Directions in Psychological Science. A Journal of the Association for Psychological Science. 2006. Vol. 15. No. 5.
Piette, 1992. A. Piette. Play, Reality, and Fiction: Toward a Theoretical and Methodological Approach to the Festival Framework. Qualitative Sociology. 1992. Vol. 15. No. 1. – pp. 37–52.
Wagner, 1983. M. Wagner. Kulturfestivals – Eine Form Gesellschaftlicher Reaktion auf die Krisen der achtziger Jahre. Theorie und Praxis des Kunstmanagements. 1983. Jg. 1. Heft 1. – S. 35.–41.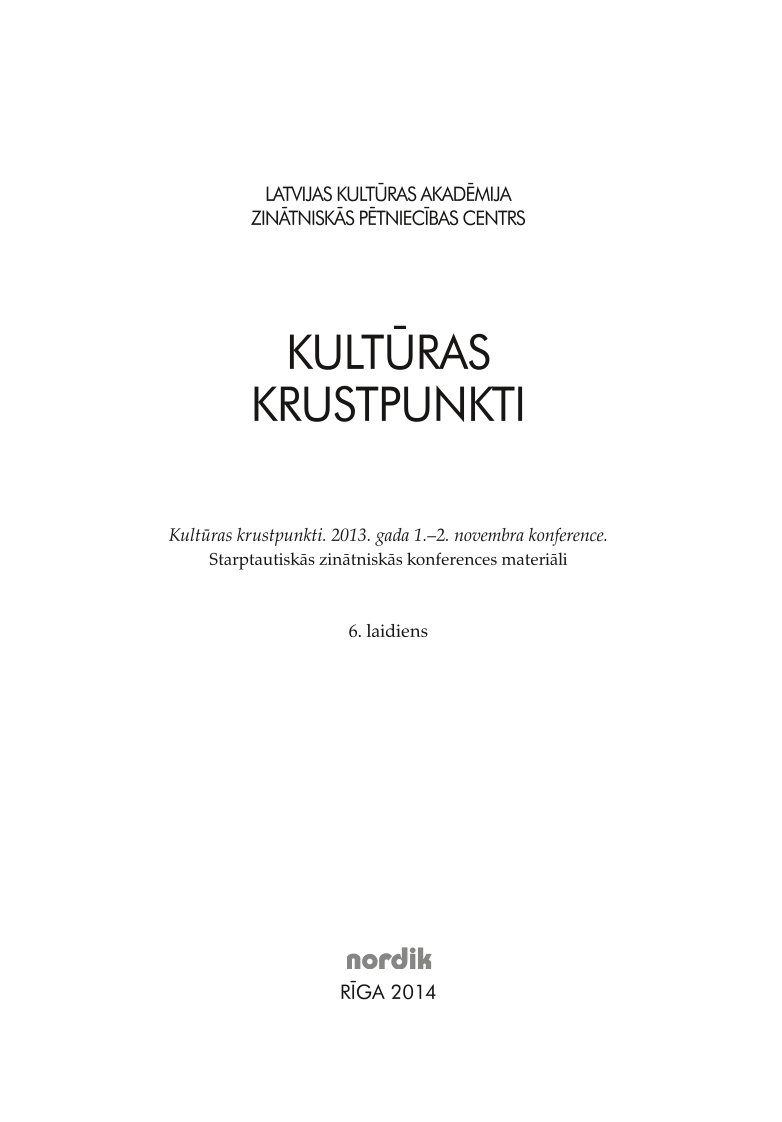 Downloads
License
Copyright (c) 2022 Culture Crossroads
This work is licensed under a Creative Commons Attribution-NonCommercial 4.0 International License.