LITERARY CINEMATOGRAPHIC STYLE AND THE BIBLICAL MOTIFS IN THE NOVEL "THE VOICE OF THE CALLER" BY ALBERTS BEL
Keywords:
Bels, literary cinematographic style, the Bible, the novel "The Voice of the Caller"
Abstract
Alberts Bels' novels have occupied a remaining place in the history of Latvian literature and these texts continue to fascinate us with their polyphony. One of the aspects why Bels' novels do not lose their topicality is the fact that the writer has indulged in archetypical thinking – neo-mythicism, specifically, use of biblical personages, images andmotifs in the subtext and in the direct substantiation for the plot. Another aspect of intertextuality that turns Bels' texts into exciting, visually and even audio-visually perceivable literature is represented by the elements of cinematographic style. The layers of Bels' novels reveal a firmnetwork that provide innovative revelations about the multidimensional ideas of his literary works by remaining within the framework of a certain artistic system.
References
Bels, 2004. A. Bels. Saucēja balss. Rīga: Jumava, 2004.
Bels, 2013. A. Bels. Baigi ellīgs latviešu stāstnieks (ar rakstnieku sarunājas Vija Beinerte). Latvija Avīze. 22.11.2013.
Goody, 2011. A. Goody. Technology, Literature and Culture. John Wiley & Sons, 2011.
Kundu, 2007. G. Kundu. Fitzgerald and the Influence of Film: The Language of Cinema in the Novels. McFarland, 2007.
Kursīte, 2002. J. Kursīte. Dzejas vārdnīca. Rīga: Zinātne, 2002.
Wyllie, 2002. B. Wyllie. Experiments in Perspective: Cinematics in Nabokov's Russian
Fiction. New Zealand Slavonic Journal Festschrift in honour of Arnold McMillin. Australia and New Zealand Slavists' Association, 2002. – pp. 277–288.
Бакирова, 2010. E. B. Бакирова. Протагонист как наблюдатель: структурирующая роль взгляда в романе Франца Кафки "Замоk". Вестник Нижегородского университета им. Н. И. Лобачевского, 2010. № 6. Н. Новгород, 2010. – С. 368–371.
Мартьянова, 2001. И. Мартьянова. Киновек русского текста: парадокс литературной кинематографичности. Санкт-Петербург: САГА, 2001.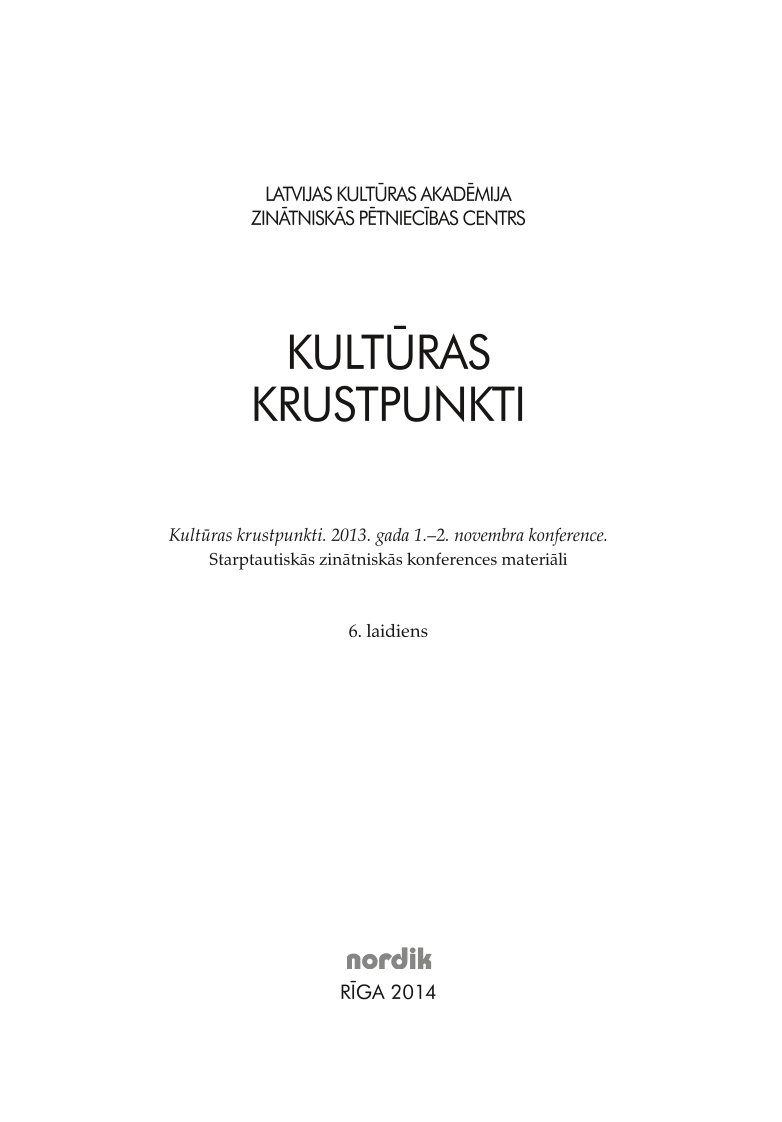 Downloads
License
Copyright (c) 2022 Culture Crossroads
This work is licensed under a Creative Commons Attribution-NonCommercial 4.0 International License.