THE CODE OF THE STREETS. SOCIAL AND ARTISTIC EXPERIENCE OF THE WALLS OF RIGA
Keywords:
graffiti, social art, Pompeii, New York, Riga
Abstract
In the past few years graffiti has become a very popular topic for discussions. Many analytic researches prove that the different expressions of graffiti are a suffi- ciently interesting field for studies in Latvia and elsewhere in the world. It might seem strange – a visual phenomenon that is most frequently associated with vandal- ism, has taken an important place in the work of art and culture researchers. What makes this self-evident sight so appealing? Furthermore, why do we perceive graffiti as a self-evident sight? Quite possibly it is a code that set in our social perception thousands of years ago, and what we call graffiti in the 21st century is an ancient tradition that has been, and still is, practised all over the world. Examples of ancient graffiti have been found in the city of Pompeii, Italy, but the most significant place to search for it is the New York City. Street art and graffiti of Riga has adopted a lot from both of these traditions. Local urban environment is alive and densely filled with different socially and artistically significant writings and drawings. The graffiti of Riga fits in the context of worldwide examples and has become a valuable part of social art, introducing artistic and political tendencies, as well as interpreting them in public environment.
References
Secondary sources
Bambic Kostov, Ana. 80's Kings: Basquiat, Haring and Futura. Available: http://www.widewalls.ch/80s-graffiti-new-york/ (viewed 25.03.2017.)
Bražinskis, Rihards (2017). Kivi republika. Studija. Nr. 112, 30.–37. lpp.
Farthing, Stephen (2015). Art. The Whole story. London: Thames & Hudson.
Gray, Steve. 20th Century Graffiti – The Rise of Graffiti Art. Available: http://www.widewalls.ch/20th-century-the-rise-of-graffiti/ (viewed 23.03.2017.)
Hoover, Marcus (1999). Where All the Madness Began: A Look at Gang History. EDGE. Available: https://web.stanford.edu/class/e297c/poverty_prejudice/gangcolor/madness.htm (viewed 23.03.2017.)
Kordic, Angie. Brooklyn Graffiti: History and (R)Evolution. Available: http://www.widewalls.ch/brooklyn-graffiti-new-york/ (viewed 26.03.2017.)
Pavāre, Katrīna (2010). Graffiti vēsture. Ritma institūts. Available: http://ritmainstituts.lv/?l1=blog&l2=207 (viewed 13.04.2017.)
Petre, Auguste (2017). Intervija ar grafiti mākslinieku Vour "Pilsēta ir dzīva". Dzīvās kultūras medijs "Veto". Available: http://veto.lv/pilseta-ir-dziva/ (viewed 16.06.2017.)
Primary sources
Gastman, Robert, Caleb Neelon and Anthony Smyrski (2007). Street World. Urban culture from five continents. London: Thames&Hudson.
Krese, Solvita (2007). No objekta līdz situācijai: publiskās mākslas transformācijas. No: R. Kaminska, Pilsēta. Laikmets. Vide. Rīga: Neputns,
Petre, Auguste (2017a). Rīgas grafiti kā sociālās mākslas piemērs. Bakalaura darbs. Rīga: Latvijas Kultūras akadēmija.
Petre, Auguste (2017b). Sociālā māksla: Pompeji un Rīga. Latvijas Architektūra. Nr. 129, 106.–109. lpp.
Wallace, Rex E. (2005). An Introduction to Wall Inscriptions from Pompeii and Herculaneum. Wauconda: Bolchazy-Carducci Publishers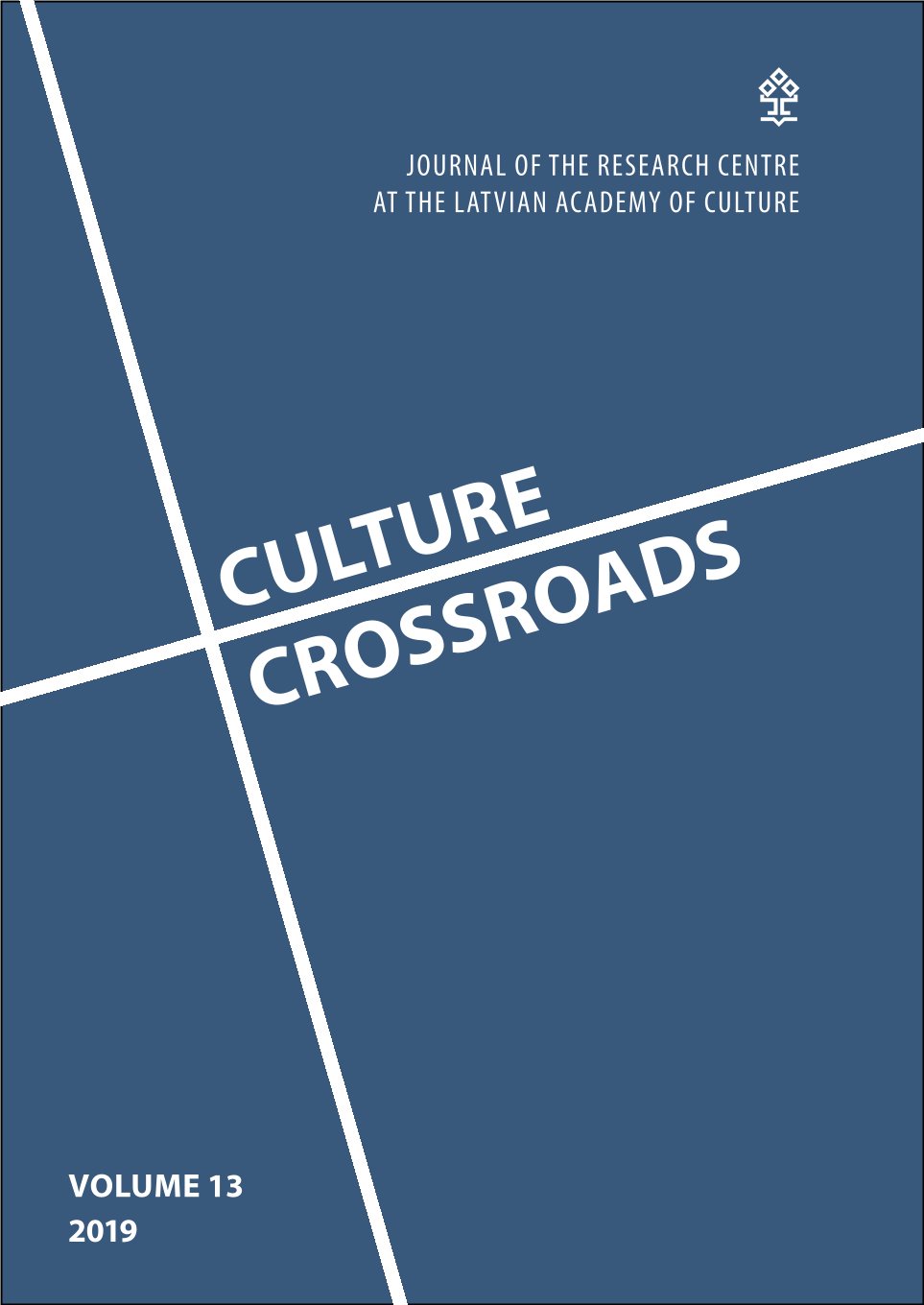 Downloads
License
Copyright (c) 2022 Culture Crossroads
This work is licensed under a Creative Commons Attribution-NonCommercial 4.0 International License.