MYTHOLOGICAL, HOLY OR CULT PLACES?
Abstract
The question of the naturalness of natural holy places raised by Prof. J. Urtāns has attracted the attention of researchers and has recently become part of international discussion. There are at least two aspects to discuss. The first relates to language (namely to the translation of native terms into English for common use); the second touches on the concept of the natural holy place. Since nature is the usual setting for holy places of pre-Christian origin and the shape of these objects is mainly natural, the English term natural holy place seems to be relevant and appropriate for international use. The second section of the article provides an example of how complicated the understanding of natural holy places can be. Single stones and groups of stones discovered during an expedition along the River Neris in 2007 are briefly presented. The author is aware that all the stones possessing proper names have a certain meaning and play a particular role in the culture. There are definitely natural holy places among them, but an exact definition of the subject is hard to produce. It is clear that the matter of the concept of the English term natural holy places as applied to the Eastern Baltic is not resolved and should be raised in the broader international context.
References
Tyszkiewicz, 1871. Tyszkiewicz K. Wilija i jej brzegi. Pod względem hydrograficznym, historycznym, archeologicznym i etnograficznym. Drezno, 1871.
Urtāns, 2007. Urtāns J. Daugavas kultūrvēsturiskie akmeņi. Rīga, 2007.
Urtāns, 2008. Urtāns J. Ancient Cult Sites of Semigallia. Rīga, 2008.
Vaitkevičius, 2004. Vaitkevičius V. Studies into the Balts' Sacred Places. Oxford, 2004. (BAR International Series 1228).
Vaitkevičius, 2010. Vaitkevičius V. Neris. 2007 metų ekspedicija. Vilnius, 2010.
Valk, 2003. Valk H. Christianisation in Estonia: A Process of Dual-Faith and Syncretism. The Cross Goes North. Processes of Conversion in Northern Europe, AD 300–1300. Ed. M. Carver. Woodbridge, 2003. 571–579.
Valk, 2004. Valk H. Christian and non-Christian Holy Sites in Medieval Estonia: a Reflection of Ecclesiastical Attitudes towards Popular Religion. The European Frontier.
Clashes and Compromises in the Middle Ages. Ed. J. Staecker. Lund, 2004. 299–310.
Verschuuren, 2010. Sacred natural sites: conserving nature & culture. Eds. B. Verschuuren, R. Wild, J. A. McNeely, G. Oviedo. London, 2010.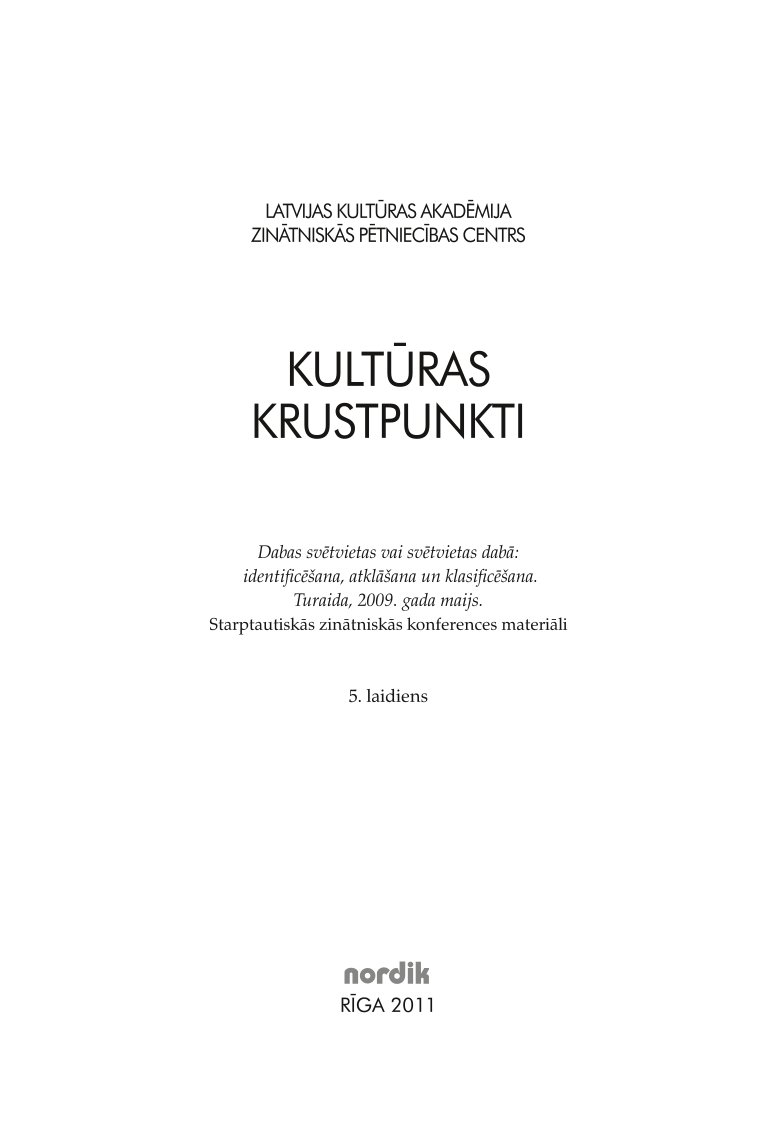 Downloads
License
Copyright (c) 2022 Culture Crossroads
This work is licensed under a Creative Commons Attribution-NonCommercial 4.0 International License.