GIANT, DEVIL OR DEATH? THE FINNISH KOLJO IN MYTHOLOGY, TOPONYMS, FOLKLORE AND ARCHAEOLOGY
Abstract
As described above, koljoand its variants have several different layers ofmeaning that have remained partly parallel and have partly changed. Ac-cording to the traditional view, the meanings of many terms relating to theancient world of belief changed with the adoption of Christianity to accommodate the needs of the new religion (Koski, 1967, 226). The Finnish koljo, a wordoriginally meaning death and significant terrain features, changed to becomepredominantly a name for a mythical giant, with negative connotations at-tached. In many cases, words signifying the spirit of deceased have later ac-quired a negatively loaded content, now meaning an animal, evil spirit or devil(Mikkola, 1905, 9; see also Krohn, 1914, 249; Tommola, 1955, 27). In the case of theword koljoand its variants, the strong association to the biblical Goliathmighthave contributed to the strength of the negative component of meaning.From the etymological and mythological point of view, places called Koljoare not unusual in their nature. Finnish hiisi-places and Estonian hiis-placesare similar in their connection to giant mythology as well as sacrificial sitesand burials (Koski, 1967, 225–226). Koljoand hiisitoponyms also have a closesimilarity in terms of their reference to topographical features associated withsupranormal beings, and in terms of the stories and other elements. Koljomustalso be attached, at least partially, to the rich tradition and group of namescontaining mythological elements. Names, in particular, have contributed tothe spread of the hiisi tradition. The archaeological finds made on the basis ofa koljo name and its possible derivatives make this word especially interesting.Through these names, the interpretation of places of the hiisi type and othersites with similar characteristics and topographical attributes awaits re-evalua-tion in the near future.
References
Aikio, 2002. Aikio A. New and old Samoyed etymologies. Finnish-Ugrische Forschungen 57, 9–57. 2002.
Alanen, 2006. Alanen T. Säämingin ja Rantasalmen maantarkastusluettelo vuosilta 1562–1563. Kotimaisten kielten tutkimuskeskuksen julkaisuja 137. Helsinki, 2006.
Alanen, 2008. Alanen T. Lars Röösin Pien-Savon verollepanomaakirjan tilusselitykset vuosilta 1643–1646. Kotimaisten kielten tutkimuskeskuksen julkaisuja 150. Helsinki, 2008.
Appelgren, 1891. Appelgren, Hj. Suomen muinaislinnat. Tutkimus vertailevan muinaistieteen alalla. Ylipainos Suomen muinaismuistoyhdistyksen aikakauskirjasta XII. Helsinki, 1891.
Eisen, 1919 Eisen, M. J. Eesti mütoloogia. Teine trükk. Tallinn. 1919 [1995].
FMU. Finlands Medeltidsurkunder. I–VIII (1910–1935). Samlade och i tryck utgivna af Finlands Statsarkiv genom Reinh. Hausen. Helsingfors.
Forsman, 1894. Forsman A. V. Tutkimuksia Suomen kansan persoonallisen nimistön alalta. I. Suomi, kolmas jakso, 10. osa. 1–253.
Ganander, 1789. Ganander Chr. Mythologia Fennica. 1789 [1960].
Güntert, 1919. Güntert H. Kalypso. Bedeutungsgeschichtliche Untersuchungen auf dem Gebiet der indogermanischen Sprachen. Halle, 1919.
Haavio, 1935. Haavio M. Suomalaisen muinaisrunouden maailma. Porvoo, 1935.
Halonen, 2004. Halonen J. Kuolema paikannimissä. Turun Sanomat. 4.4.2004.
Jauhiainen, 1994. Jauhiainen M. Kirkon kivitys. Suomen kansankulttuurin kartasto = Atlas of Finnish ethnic culture. 2. Suomen perinneatlas = Folklore / Matti Sarmela. Suomalaisen Kirjallisuuden Seura. Helsinki, 1994. 175–177, kartta 76.
Kemppinen, 1960. Kemppinen I. Suomalainen mytologia. Kirja-Mono Oy. Helsinki, 1960.
Kivikoski, 1955. Kivikoski E. Kalevasonens liebryne. Finskt Museum. LXII. 65–70.
Korpela, 2008. Korpela J. The World of Ladoga: Society, Trade, Transformation and State Building in the Eastern Fennoscandian Boreal Forest Zone c. 1000–1555. 2008.
Koskenheimo, 2001. Koskenheimo J. Jättil(äinen)- ja Kalevanpoika-alkuiset paikannimet. Toim. J. Johanna, K. Mallat, T. Suutari. Nimien vuoksi. Kielen opissa 5. 2001. 28–44.
Koski, 1967. Koski M. Itämerensuomalaisten kielten hiisi-sanue. Scripta Lingua Fennica Edita. Series C, 5. Turku, 1967.
Krohn, 1914. Krohn K. Suomalaisten runojen uskonto. Porvoo, 1914.
Lönnrot, 1880. Lönnrot, E. Suomalais-ruotsalainen sanakirja II. Helsinki, 1880.
Mikkola, 1905. Mikkola J. J. Peijaiset ja peijakas. Virittäjä. 1905. 9.
Mikkonen, Paikkala, 2000. Mikkonen P. Paikkala S. Sukunimet. Toinen uudistettu painos. Keuruu, 2000.
Nissilä, 1975. Nissilä V. Karjalaista ainesta Kuopion seudun nimistössä. Kuopion pitäjän kirja. Toim. Antti Rytkönen. JYY:n kotiseutusarja No 10. 1975. 127–136.
Oja, 1954. Oja A. Asutuksen vaiheet. Suur-Jämsän historia. I. Forssa, 1954. 173–277.
Pelkonen, 1902. Pelkonen, A. Entis-ajan muistoja Rantasalmen kihlakunnasta. Suomen muinaismuistoyhdistyksen aikakauskirja 1902.
Renvall, 1826. Renvall G. Suomalainen sanakirja. Lexicon linguae finnicae. 1826.
Ruohonen, 2007. Ruohonen J. Petäjäveden Kuoliosaaret. Historiallisen ajan hautapaikkojen arkeologinen inventointi 2007. Turun yliopisto, arkeologia.
Ruohonen, 2009. Ruohonen J. Kalmosaaret, kirkkomatkat ja karsikot. Kangaslampi. Historiaa kivikaudelta 2000-luvulle. Jyväskylä, 2009.
Räisänen, 2003. Räisänen A. Nimet mieltä kiehtovat. Etymologista nimistöntutkimusta. Suomalaisen Kirjallisuuden Seuran Toimituksia 936. 2003.
Räisänen, 2005. Räisänen A. Saamelaisjäljet Kuusamon ja Posion paikannimistössä. Virittäjä. 3/2005. 336–356.
Setälä, 1912. Setälä E. N. Aus dem gebiet der lehnbeziehungen. Finnisch-Ugrische Forschungen. XII. 1912. 161–289.
SKES. Suomen kielen etymologinen sanakirja. LSFU XII. 1955–1981.
Snellman, 1897. Snellman A. E. Muinaisjäännöksiä ja tarinoita Laukaan kihlakunnasta.
Jälkimmäinen osa: Karstulan ja Kivijärven pitäjät. Luetteloja Suomen muinaisjäännöksistä XXI.
Tigerstedt, 1877. Tigerstedt R. Berättelse öfver en antropologisk resa i Tavastland, sommaren 1876. Öfversigt af Finska Vetenskapsocietens förhandlingar. XIX. 1876–77. 33–43.
Tommola, 1955. Tommola B. Yliluonnolliset olennot lastenpelotuksina. Suomi. 1955. 107, 2.
Vahtola, 1980. Vahtola J. Tornionjoki- ja Kemijokilaakson asutuksen synty: nimistötieteellinen ja historiallinen tutkimus. Studia Historica Septentrionalia 3. Pohjois-Suomen historiallinen yhdistys. 1980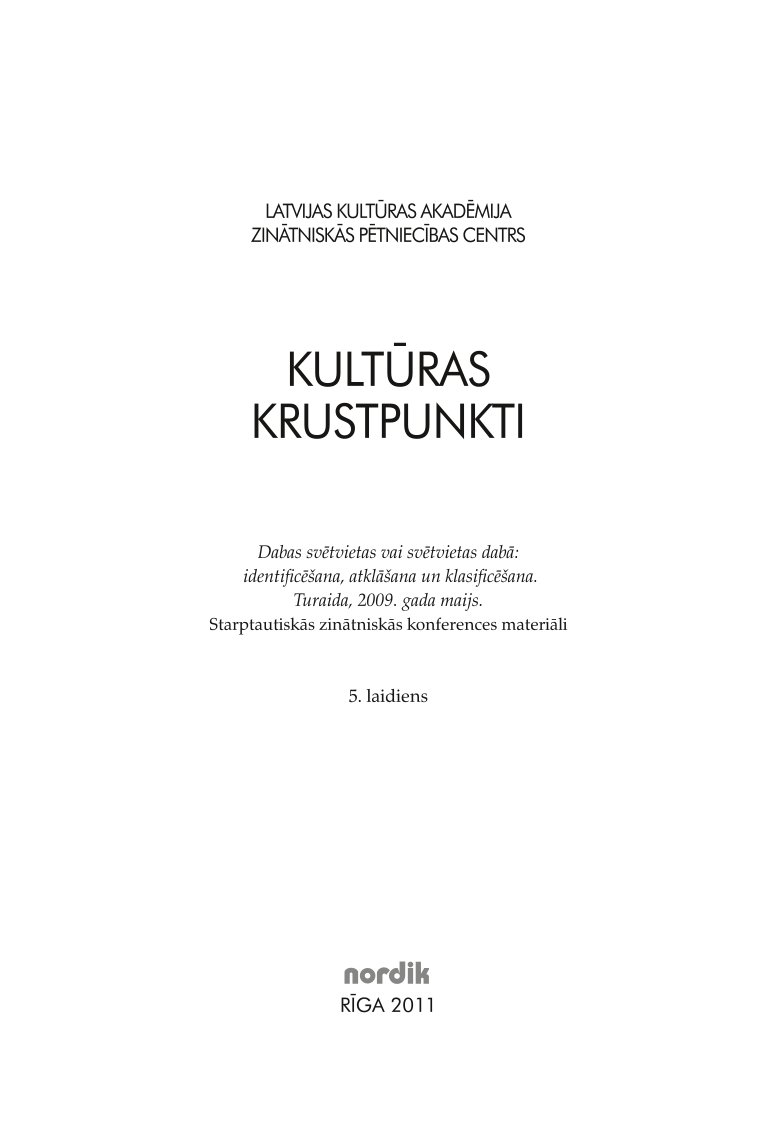 Downloads
License
Copyright (c) 2022 Culture Crossroads
This work is licensed under a Creative Commons Attribution-NonCommercial 4.0 International License.